Twice.

So if you're an Eaglez, or just a fan of staying on topic, you might well be annoyed with me right now. The last three essays have circled around the implications of idol behavior—what happens when performers themselves are damagingly misogynist; whether one can be a fan without being damaging in turn; and whether even just listening to idol pop propagates unfairnesses—while all Ninety One themselves have done is sing some songs, hawk some frozen yogurt, and deal with lineup changes. It is past time to return our focus to these particular idols.
Let's start with the summer of 2016, when Ninety One, still quite new, accompanied Yerbolat Bedelkhan and his group, Orda, to a concert in Ürümqi, China. It was the group's first performance outside of Kazakhstan, and a chance to meet a new audience away from the backlash they'd been dealing with for almost a year (and that would disrupt their tour later that fall). They must have been thrilled. They sure seem thrilled, practically bouncing off the walls of Almaty International Airport, if the 91 Space episode that documented the trip is to be trusted.
This may be the most enjoyable episode of 91 Space's first season. We see the guys performing, briefly, but mostly they seem to be having a grand old time on this working vacation. They eat, and ride horses, and wander around beautiful scenery and say hello to birds of prey, and sleep into the afternoon, and eat some more, and occasionally yell while sticking their torsos out of car sunroofs, and eat some more, and basically act like bemused, delighted tourists who have never before had the opportunity to figure out a hánzi-covered remote control and watch Chinese television. Nothing in the video suggests that they shouldn't be there.
In fact, it made perfect sense for Ninety One and Orda to perform in Ürümqi. Only a 90-minute flight from Almaty, the city is the capital of the Xinjiang Uyghur Autonomous Region (hereafter Xinjiang), one of five autonomous regions designated by the Chinese government starting in 1947 to grant greater local autonomy to parts of the country where the dominant population was not ethnically Han Chinese. (The other four are Inner Mongolia; Guangxi in southern China, home to the Zhuang minority; Ningxia, just south of Inner Mongolia, where 20% of China's Hui population resides; and Tibet.) Most of Xinjiang's population is Uyghur, a group that has been largely Muslim since the 19th century and whose language, like Kazakh, is Turkic. There are more than 1.5 million Kazakhs living in Xinjiang (including, according to a 2010 census, 70,000 in Ürümqi) and some 230,000 Uyghurs living in Kazakhstan. In such a context it's more surprising that Ninety One act as comically out of water as they do, bumbling Nǐ hǎo and wrinkling their noses at the food.
The trip was enough of a success that three years later, in the summer of 2019, the group went back to perform in Xinjiang: this time to Yining, a city only about two hours' drive from the China-Kazakhstan border. As in 2016, Juz Entertainment filmed the members during the trip and then repackaged it for YouTube.
This video is more than twice as long as the 2016 Space episode, and yet a lot less happens. Fully a third of it is spent is devoted to the group's soundcheck in a nearly empty arena. Instead of getting to wander, the group is shuttled from a Burger King to a fanmeeting to the soundcheck to the concert, constantly surrounded by security in black face masks. They joke around with each other but the overall atmosphere feels much more tense than the 2016 trip. Bala barely cracks a smile.
What changed in the intervening three years? Certainly Ninety One did: they're older and warier, having dealt with the canceled concerts and the movie and fans sleeping outside their apartment and the general hassles of fame. (In one 91TV episode, they're challenged to carry out simple tasks in an Almaty mall without getting recognized or bugged for an autograph, and fail repeatedly.) But Xinjiang changed more, and for the worse. And there's no way Ninety One didn't know it.
---
At the risk of insulting your ability to keep up with current events: Xinjiang is presently home to the world's largest current network of concentration camps. The best guesses as to how many people are in the camps start at about 800,000, and scale up from there. At this point the list of human-rights abuses that have been reported out of Xinjiang is so long that the Chinese government might as well be using some horrific checklist first developed in Berlin in 1935. Forced labor? Check. (That made stuff you yourself own? Most likely. Including face masks.) Torture? Check. Forced abortions and sterilizations of Uyghur women? Check. State-sponsored rape? Sure!
Actually, wait, sorry, I let Godwin's Law get the better of me. The Chinese government couldn't possibly be taking their cues from the Nazis, as their method of repression, recently described by Ross Andersen for the Atlantic, is considerably more inventive and pervasive than anything the Nazis ever came up with:
…police have since forced [Uighurs] to install nanny apps on their new phones. The apps use algorithms to hunt for "ideological viruses" day and night. They can scan chat logs for Quran verses, and look for Arabic script in memes and other image files.

Uighurs can't use the usual work-arounds. Installing a VPN would likely invite an investigation, so they can't download WhatsApp or any other prohibited encrypted-chat software. Purchasing prayer rugs online, storing digital copies of Muslim books, and downloading sermons from a favorite imam are all risky activities. If a Uighur were to use WeChat's payment system to make a donation to a mosque, authorities might take note.

The nanny apps work in tandem with the police, who spot-check phones at checkpoints, scrolling through recent calls and texts. Even an innocent digital association—being in a group text with a recent mosque attendee, for instance—could result in detention. Staying off social media altogether is no solution, because digital inactivity itself can raise suspicions. The police are required to note when Uighurs deviate from any of their normal behavior patterns. Their database wants to know if Uighurs start leaving their home through the back door instead of the front. It wants to know if they spend less time talking to neighbors than they used to. Electricity use is monitored by an algorithm for unusual use, which could indicate an unregistered resident.

Uighurs can travel only a few blocks before encountering a checkpoint outfitted with one of Xinjiang's hundreds of thousands of surveillance cameras. Footage from the cameras is processed by algorithms that match faces with snapshots taken by police at "health checks." At these checks, police extract all the data they can from Uighurs' bodies. They measure height and take a blood sample. They record voices and swab DNA. Some Uighurs have even been forced to participate in experiments that mine genetic data, to see how DNA produces distinctly Uighurlike chins and ears. Police will likely use the pandemic as a pretext to take still more data from Uighur bodies.
Why Xi Jinping and his subordinates have made it such a priority to turn Xinjiang into a 640,000-square-mile open-air prison is harder to answer. Apparently the region was regarded as a potential trouble spot well before 2016, which saw the appointment of Chen Quanguo, who had previously been stationed in Tibet, as regional party secretary. (One of Chen's first initiatives was to advertise 84,000 new jobs in security work.) Andersen speculates that the Chinese government is basically using Xinjiang to test surveillance technologies it plans to use both within China itself, as a way of controlling the Chinese population, and export abroad–more on that last point in a minute. Michael Doran and Peter Rough, recently writing for Tablet, suggest, alternately, that China's leadership has staked so much on its Belt and Road Initiative, including an infrastructure and economic corridor with Pakistan, that the investment in Xinjiang is worth it: if everything goes according to plan, Xinjiang will be China's connection to ports in the Indian Ocean and from there the Middle East. The simplest explanation may be the best: Xi Jinping's government is not about to tolerate organized dissent anywhere, not Hong Kong, not Tibet, not Xinjiang.
And so the government threat is everywhere in Xinjiang. Shawn Zhang's list of re-education camps in Xinjiang includes two locations in Yining city and three in Yining county. Xinmaoye International Shopping Center, where Ninety One held their 2019 fanmeeting, is within a 45-minute drive of at least two separate camps. It's entirely possible that some of the fans waving their autographed posters are now in said camps.
---
Granted, most idols have neither the time nor the inclination to read the Guardian or Vox or angry reports from the Australian Strategic Policy Institute. But it's not as if word of the Xinjiang concentration camps hasn't reached Kazakhstan. Those 1.5 million Kazakh residents of Xinjiang? Some of them are in the camps, too. "Distrust has spread to any ethnic group that has cultural similarity to the Uighurs," researcher Rian Thum told the Washington Post last year, amid reports of Chinese Kazakhs being arrested and imprisoned while moving back and forth between China and Kazakhstan.
The first Kazakh victim of the Xinjiang oppressions to be able to snag publicity was Sayragul Sauytbay, who in April 2018 managed to cross the China-Kazakhstan border on a fake passport and then testified to having been in the internment camps. She was arrested; Chinese officials wanted her deported back to China; Kazakhstani judges gave her a suspended sentence but refused to either deport her or offer her asylum. By mid-2019 she had fled to Sweden, where she's currently giving interviews. Her example has inspired other ethnic Kazakhs to cross into Kazakhstan and seek asylum. By then a trio of Kazakhstanis had founded Atajurt, a group dedicated to documenting and publicizing the existence of the Xinjiang camps. The Believer's collection of oral history from camp survivors and Kazakhstanis worried about their relatives, published last fall, was largely collected in conjunction with Atajurt. That was before Serikzhan Bilash, one of Atajurt's three founders, was repeatedly arrested, and the group itself banned.
You might well be wondering why Kazakhstanis keep getting arrested in Kazakhstan for talking about the actions of the Chinese government. The short answer is that the imprisonment of Chinese Kazakhs puts the Republic of Kazakhstan in a hellishly delicate position. To put it bluntly: were China's and Kazakhstan's armies to get into an actual fight, the latter would not win. If the Global Firepower Index is right, the entire Kazakhstani armed forces comes to less than 200,000 soldiers and fewer than 250 military aircraft of any kind. This has led the Kazakhstani government to pursue a careful and complicated diplomatic strategy that requires it to maintain good relations with both China and with Russia, its other potentially-sovereignty-threatening neighbor, without looking too subservient to either.
Meanwhile, along with the giant stick that is the People's Liberation Army, China's government offers carrots in the form of Belt and Road Initiative investment. Kazakhstan being the obvious first stop on any route out of western China, it has become a major recipient of Belt and Road-related announcements: Xi Jinping actually announced the whole project in Astana in 2013. Belt and Road goals include new gas pipelines across Kazakhstan, as well as taking advantage of existing rail lines to connect through Kazakhstan to Tehran and London; in April the official Belt and Road website bragged of now being able to get cargo trains from Qingdao, on China's eastern coast, to Almaty in eight days. China's Ministry of Commerce claims that in 2019, $400 million in foreign direct investment in Kazakhstan came from Chinese sources.
Some of this foreign direct investment, by the way, is coming in the form of surveillance technology. For example, Hikvision—the partially-state-owned firm that supplies the facial-recognition techology now blanketing Xinjiang—has cameras on roads in Almaty and Shymkent. In 2017 Huawei, which also manufactures surveillance technology (and has been accused of providing some of that technology to Chen Quangguo's police), held an Innovation Day in Astana, where there are more than 2,000 cameras installed as part of a "smart city" initiative. Last September Kassym-Jomart Tokayev, Kazakhstan's president, visited Hikvision offices in China and came back excited about the possibilities of facial-recognition technology. War on the Rocks, an American blog with a large military readership, has gone ahead and called Kazakhstan one of the "client-states of Chinese repressive technology."
In short, while the Kazakhstani government is pushing back somewhat against the Chinese government on behalf of ordinary Kazakhstanis—it has recently started granting some of those asylum claims from Chinese Kazakhs—its general inclination has been to push back against ordinary Kazakhstanis on behalf of the Chinese government. We will get into this more in the next essay, but for now just understand that Kazakhstan is an authoritarian state itself, lacking in freedoms of speech and assembly, and its leadership might well appreciate a cowed populace just as much as its domineering eastern neighbor does. The violation of Kazakhstanis' human rights has never been a huge impediment to the functioning of the official Republic of Kazakhstan, abroad or at home.
---
Remember how we spent an entire essay talking about idol-pop groups as national representatives, proud sons or daughters of their respective countries, and how Ninety One wholeheartedly endorsed this idea?
You start to see the problem for Ninety One. How can they be national representatives, working to boost Kazakhstani soft power, while deviating publicly from official state policy? Expecially given that the idea of of pop culture as a crucial soft-power battleground has also been wholeheartedly endorsed by the Xi Jinping administration.
The Chinese state has picked an absolutely astonishing number of battles with various pieces of pop cultural ephemera, with an energy that Tipper Gore might have found a bit over the top. Some were related to internal politics: Winnie the Pooh got banned after memes started circulating online implying Xi was a chubby little cubby all stuffed with fluff. In 2014 three different Chinese newspapers published editorials condemning the Japanese cartoon character Doraemon as part of a wave of "Japanophilia" that needed to be resisted; in 2016 China's Ministry of Culture banned websites from streaming foreign media without official approval, a move aimed at least partially as a strike against Chinese teenagers' love of animé.
This has spilled over to Korean idol pop as well. The most famous, and ridiculous, incident happened in late 2015, when Tzuyu of the Korean group Twice appeared on Korean television briefly holding her home country's flag. Or, rather, what she knows as her home country's flag, since she's from Taiwan. The Chinese government begged to differ, with such a speedy, ad-campaign-cancelling, parent-company-stock-tanking fury that Tzuyu was forced to record an abject apology video for daring to suggest that Taiwan was not part of China. The Taiwanese reaction to that was so fierce that sympathy for Tzuyu may have actually tipped enough votes for pro-independence candidate Tsai Ing-wen to win Taiwan's presidential election, which was held soon after the apology video was released.
That was the warmup for what happened the following year, when the Chinese government reacted to a South Korean purchase of an American-built missile shield system by… banning Korean idol pop and dramas. (And more or less banning sales by Korean conglomerates, such as Lotte Group, even if the products in question had nothing to do with pop culture.) To this day BTS has performed in mainland China only once, at an awards show in Beijing in 2015, before the ban was implemented. Things have eased up slightly, in that it is again possible to listen to Korean pop on Chinese streaming services, and Korean-employed idols have appeared on Chinese television shows. There are also still Chinese idols working in Korea; most of them have been careful to state their support of the Chinese government on social media.
The Chinese government isn't necessarily opposed to pop music, or animation; it's Korean pop music and Japanese animation that's the problem. China actually has its own growing idol-pop scene, boosted by the popularity of shows such as Idol Producer. Similar to how Ninety One's debut prompted anger on behalf of suddenly threatened Kazakhstani masculinity, there are apparently some Chinese critics who believe the homegrown "little fresh meat" is too unmanly and foreign-influenced to be doing China good. That said, I expect that the Chinese government will continue to regard domestic idol pop as a potential safeguard against pernicious foreign influence. As I was working on this essay, word came that Yue Hua Entertainment, a Chinese firm, had fallen afoul of a Ministry of Culture ruling that assesses penalties for performances that "damage the national honor"—in this case, an idol-pop group with one Chinese member, managed by Yue Hua's Korean subsidiary, performing for the Korean military.
Why, then, was a Kazakhstani idol-pop group allowed to go to Yining and perform in Kazakh? I don't know, but I can come up with a few possible explanations, none of them flattering to Ninety One. One is that Q-pop is just too small a scene to worry about. One is that someone within the Kazakhstani government was invested enough in the Yining concert (at which Ninety One was not the only group performing) that local Xinjiang officials thought the potential good relations would be worth the cost of potential malicious foreign influence. And one final possibility is that Ninety One was part of a larger operation to argue that it is easy and fulfulling to be a Kazakh in Xinjiang, in the face of mounting evidence to the contrary. Whitewashing, in other words.
---
As of this writing, the most recent Ninety One single (and quite possibly the last one ever to include AZ) is "Lie," released this past May.
"Lie" was probably never meant to be a standalone single. It was originally performed as a collaboration with the Russian-language pop singer Nazima under the title "Lai/Лай/Lie." (The sound that corresponds to the English word "lie" also corresponds to the Kazakh word for "dirt" and the Russian word for "barking." What, you thought these guys were going to pass up a chance to do a trilingual pun?) It was expected to be on the next album, but before Ninety One could record the next album a pandemic got in the way. By mid-March Kazakhstan was in lockdown, with particularly stringent measures in place in Almaty and the capital. So Ninety One improvised, recording a Nazima-less version and making copious use of green screens to shoot a mostly goofy video.
Don't get me wrong: at this point I'm as happy as anyone to see them wandering around the screen eating pizza, putting the absolute minimum of energy into their dancing, and skateboarding badly. But "Lie" the song is not goofy at all. "Lie" the song reads pretty clearly as being about ambivalence over what to do when the choice is between soul-sapping apathy and potentially dangerous involvement:
Dirt is all around,
Dirt is all around
Everything is right at home, everything is in abundance
The streets are in trouble, they're full of dirt
And mud in which everyone will drown, stay wide awake!…
We talk about it all but never beyond the kitchen.
I don't see the ground when I bow down.
And why are you still happy?…
I'm not hiding from fear,
Just trying to save you from my anger….
Pick up your tears, and wear them around your neck.
Life will make sense if you have a good imagination.
Keep your feet under the blanket,
The monster never sleeps after all,
It pulls you in the mud
And no one will be saved
This leads to ZaQ's more assertive final section, concluding with:"I speak Chinese, xièxiè, Yining." "Xièxiè" being "thank you" in Mandarin, but I've been told that if you put xièxiè next to Yining you get something close to an obscenity in Kazakh. And this is the line illustrated in the video by ZaQ being restrained by Alem as a pretend policeman. A moment later, in case we might have missed the point the first time, ZaQ brandishes a megaphone as a weapon.
As far as I know, this is the closest Ninety One has gotten to talking publicly about the ethical quandary they must have faced when the opportunity—quite possibly, depending on which local officials were involved and how much they cared, the requirement—arose to return to Xinjiang. They may have decided that the benefit of bringing some distracting joy, in Kazakh, to the beleaguered Yining audience was worth the cost of feeding the Chinese government's (and Kazakhstani government's) sanitized narrative. They may have decided not to pick a fight they had no chance of winning. It doesn't seem they've crossed any lines: when they performed a live-under-quarantine concert for state-owned Kazakhtelecom, "Lie" was on the set list, with xièxiè Yining and all the other lyrics intact.
Ninety One has run into a paradox of idol pop's supposed power. On the one hand, if they were to record a more explicit condemnation of the Xinjiang camps, they might well attract the attention and energy of the largest and most powerful police state in the world. On the other, they have little chance of actually making a change in said police state; less chance than they do of putting vulnerable Eaglez in Xinjiang at even greater risk.
Besides, the threat doesn't originate solely from the Chinese government. The line We talk about it all but never beyond the kitchen may actually be coming from the members' own experiences. In 2018 ZaQ sat for an interview with a radio show: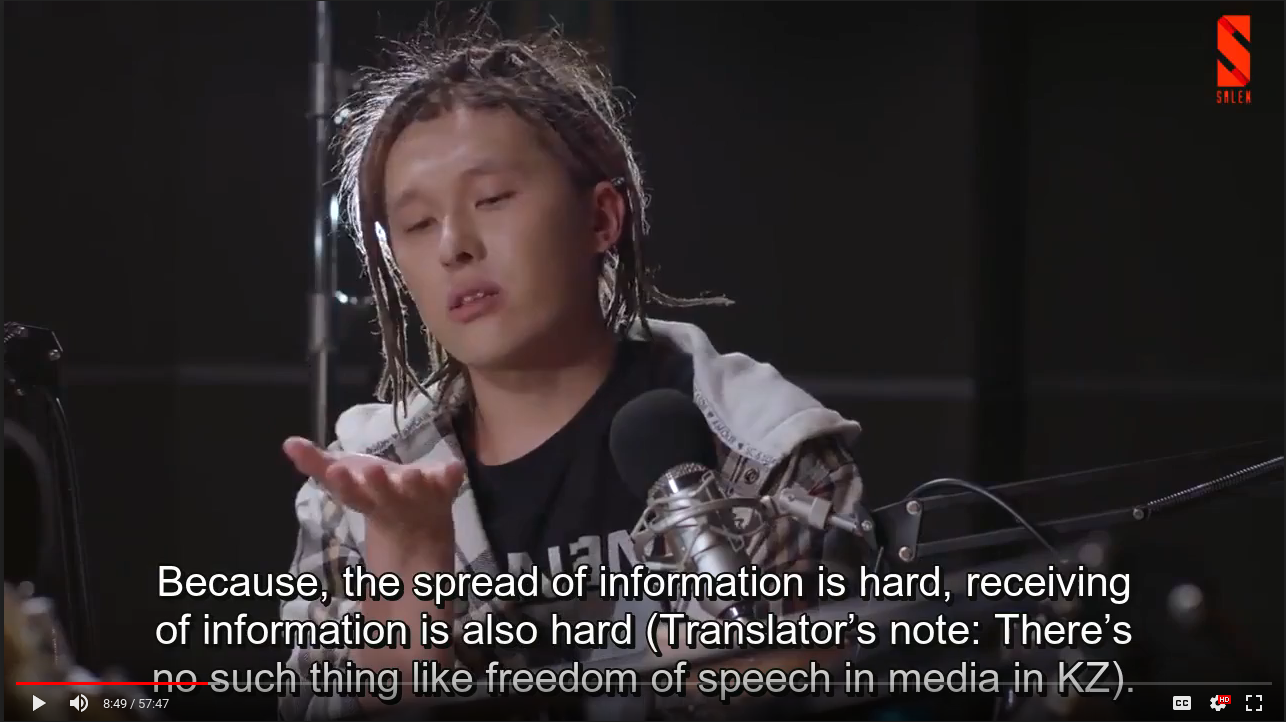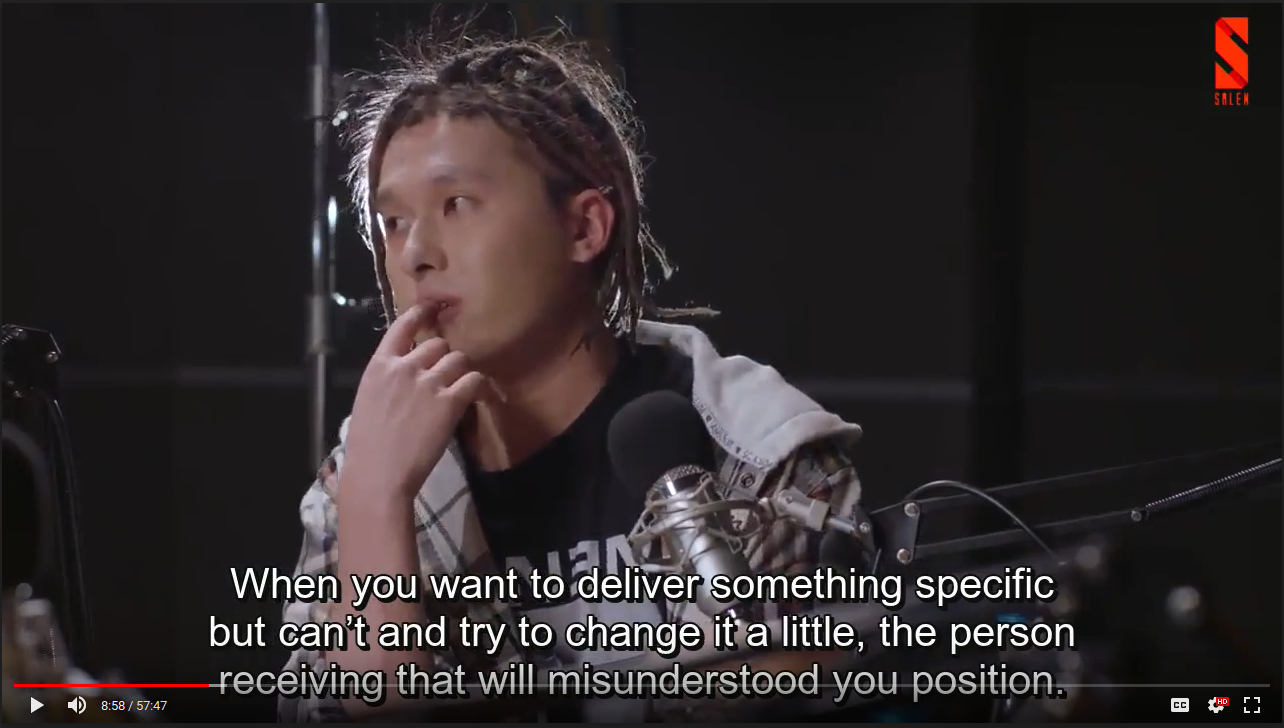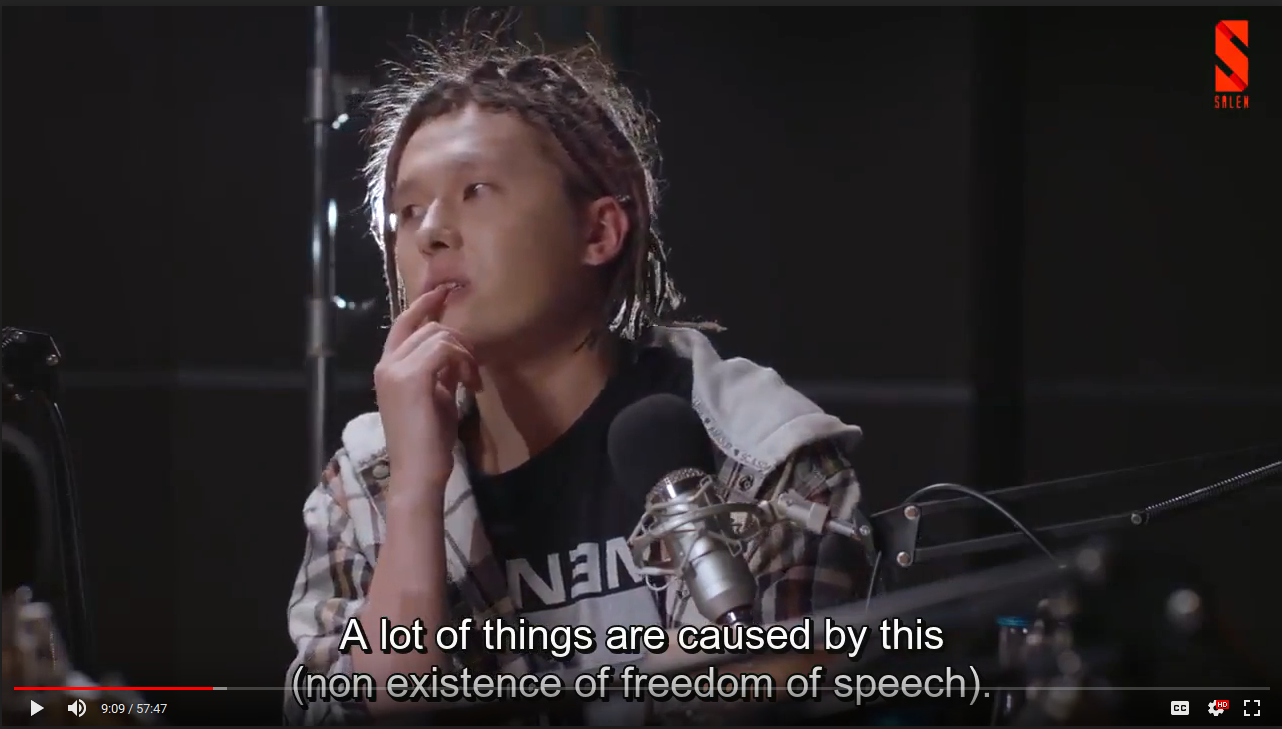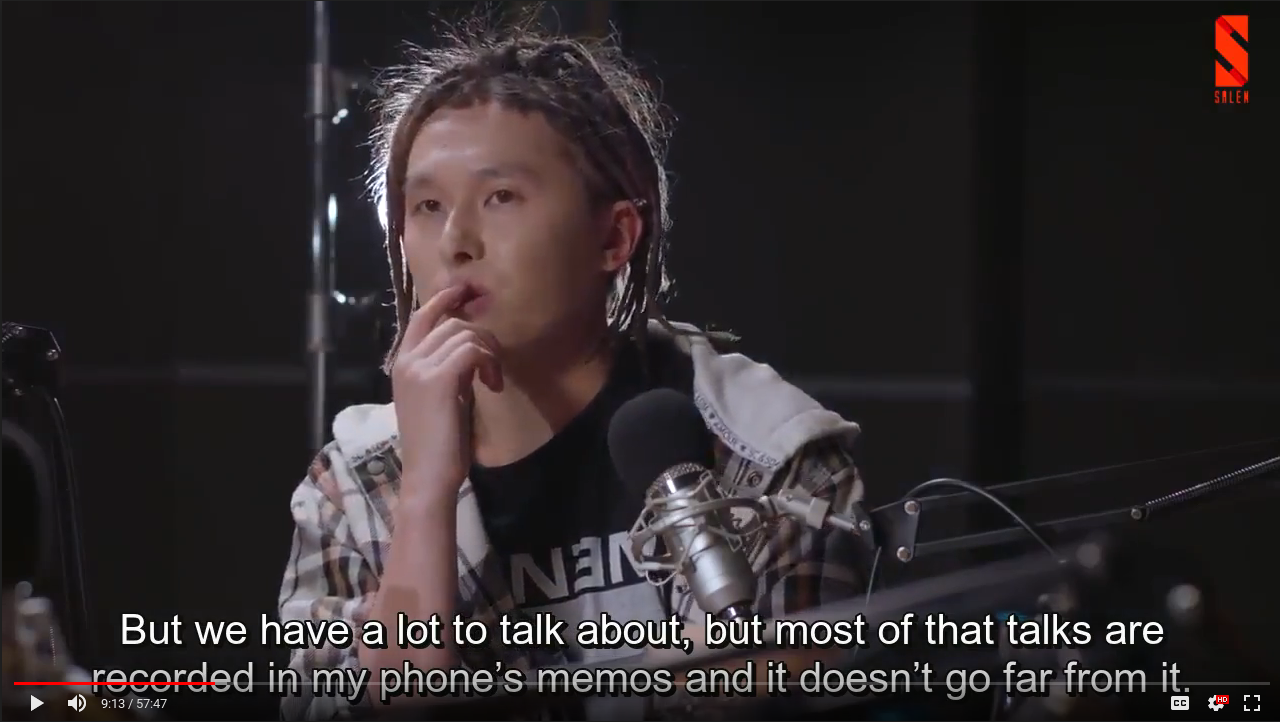 We've been talking all along about power. And whatever power Ninety One has (doesn't have, really) with regards to the People's Republic of China, they are foremost a Kazakhstani group, concerned more than anything else with the exercise of their power within Kazakhstan. What is their situation at home, and how do they respond to it? That—the most important question with this group, really—is next.
---
Back to Part 8: Starlust, the Sasaeng, and the Servant
On to Part 10: Ninety One as Nazarbayevean Realists
---